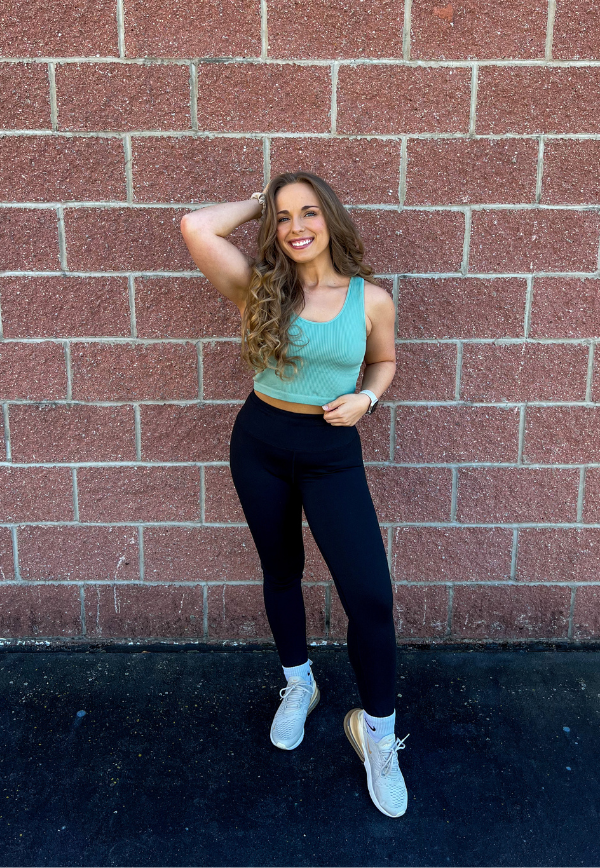 Head Coach, CEO, and Founder of the Functional Fat Loss Academy
MS Nutrition, Registered Dietitian, NASM-Certified Personal Trainer, 2.5+ Years of Functional Health Training

I'm Kara, a Functional Registered Dietitian and NASM-Certified Personal Trainer who understands that nutrition and fitness needs to be individualized for YOUR goals and lifestyle. I struggled with finding true confidence and happiness in my body for years. From a young age, I started trying to lose weight through all of the wrong methods. I tried every fad diet in the book during my college years and was working out twice per day, only to end up right back where I started in the first place. I was constantly spinning my wheels. Little did I know, I was putting my body in an even worse place for fat loss throughout all of those restrictive attempts. I then fell into a constant cycle of bingeing and restricting, which is where I felt myself hit rock-bottom. I had completely lost sight of who I was and my health, and it was time to take back control.
I finally reached out to a nutrition and fitness coach in January of 2018, and he changed my life forever. Having an unbiased eye who's always one step ahead of you and can guide you through every step of the journey is a crucial component to your success. It wasn't until I began weightlifting with intent and truly understanding just how much food my body needed to achieve my goals that I saw insane results. In the meantime, my relationship with food had improved ten-fold because I was now eating to fuel my body, learned that I can eat the foods I love and still see fat loss, and I learned to value my body for everything it does for me on a day to day basis. I found confidence, mental clarity, and strength in myself that I never imagined I could have.
Read More
Throughout this journey, I've experienced the importance of having a coach and mentor. I also never want to see another woman have to struggle through what I went through to find true happiness in herself. I failed at my nutrition and fitness journey over and over again, so you don't have to. After 6 years of education, I finally established Kara Goss Nutrition and Fitness in October of 2019.
Along my own fitness journey and among my experience of coaching others, though, I began to realize that there was a lot more to this whole "fitness" thing than simply just exercise and nutrition. This is where my passion and education surrounding hormones and metabolism came into play, and how the Functional Fat Loss Academy was born. As I started to run into my own hormonal issues that affected my fat loss journey, I also noticed that some of my clients were as well. So, I began to dig deeper, educating myself on functional nutrition and the role that our hormones play in our body's ability to reach a certain physical appearance. I now work with many women who struggle with common hormonal and metabolic issues such as PCOS, hypothyroidism, and insulin resistance. I pride myself on not only being a coach who can help you handle your diet and exercise, but also, who looks at you as a whole person – from nutrition, to exercise, stress, sleep, digestion, lifestyle factors, and internal health. When we work together, we dig deep!
Outside of coaching – you can find me spending time in nature, meditating + doing breathwork, traveling all over the country to hangout with my business besties, watching Grey's Anatomy, working on my self-development, talking to God, jamming to music, and lifting heavy weights. Oh, and eating ice cream.
The feeling of waking up every single day and getting to live out my passion of helping people step into their power, physically, mentally, and health-wise, is the biggest blessing in my life. I've helped hundreds of women transform their lives through nutrition and fitness, and now it's your turn. Our team is here to meet you exactly where you're at, so you can feel supported, educated, and obtain results that last for a lifetime!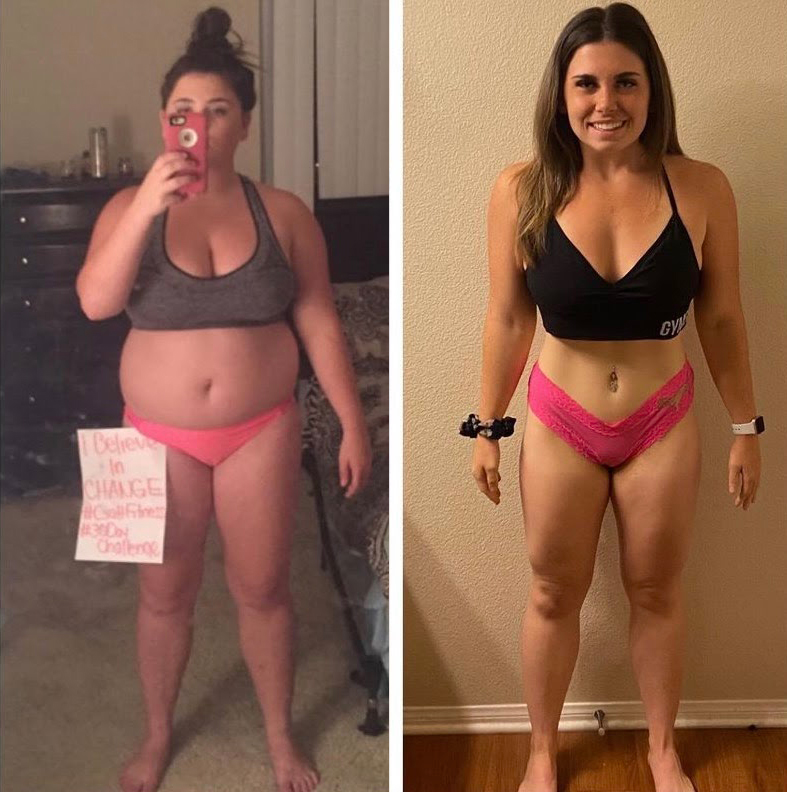 Functional Fat Loss Academy Lead Assistant Coach
Certified Online Fitness and Nutrition Coach (OFNC), NASM-Certified Personal Trainer, Certified Health Mindset Coach, 1.5+ Years of Functional Health Training 

What's up friends! I'm Court! I discovered my love for fitness and nutrition after struggling with it on my own for a majority of my life. I was extremely overweight throughout my childhood/teenage years, which really affected my confidence and self-esteem. I spent years trying (and failing at) almost every single fad diet in the universe. I hired in-person trainers that were never able to FULLY help me, restricted my calories and foods I loved, and killed myself with endless cardio + hours of daily strength training… only to never get anywhere with achieving my goals. Being caught up in the never-ending diet cycle was SO frustrating, and I finally decided to hire my first online nutrition + fitness coach in early 2019. Having someone in my corner who was able to teach me how to make fitness a sustainable part of my life was a game changer, and I can't express how critical having an unbiased eye to hold me accountable and guide me through every step of my journey was for my success.
While it was awesome seeing my physique change, I was more excited about the internal changes that were happening. I started loving the person I saw in the mirror. I was waking up excited about life. I felt strong & empowered! I had finally found an amazing balance and felt proud. Fitness saved my life and helped me realize that I could accomplish anything, and I knew it was my mission to help other women change their lives the way fitness changed mine.
Read More
So, I dove into learning everything I possibly could about health/fitness/nutrition to ensure my clients would NEVER have to go through the struggles I went through. I became a NASM Certified Personal Trainer, and am also an Online Fitness and Nutrition Certified Coach, a Precision One Nutrition Coach, and I am currently in the process of becoming a Health Mindset Certified Coach (because mindset is truly EVERYTHING in a fitness journey)! I am a firm believer in helping my clients achieve their goals through evidence-based recommendations, tailored to THEIR individual needs. Nothing brings me more joy than helping women overcome their limiting beliefs, achieve balance with health/fitness, and develop the confidence that comes along with becoming the BEST version of themselves.
Outside of coaching, you can find me walking on the beach, cuddling with my dog (aka child) Claire, listening to podcasts, jamming out to music, training at the gym, binging Netflix (or any trashy-TV series), eating good food, and working on my personal development.
I can't tell you how blessed, excited, and honored I am to be a part of this incredible team, and I am SO pumped to help you level up by becoming the best possible version of YOU in all aspects of your life!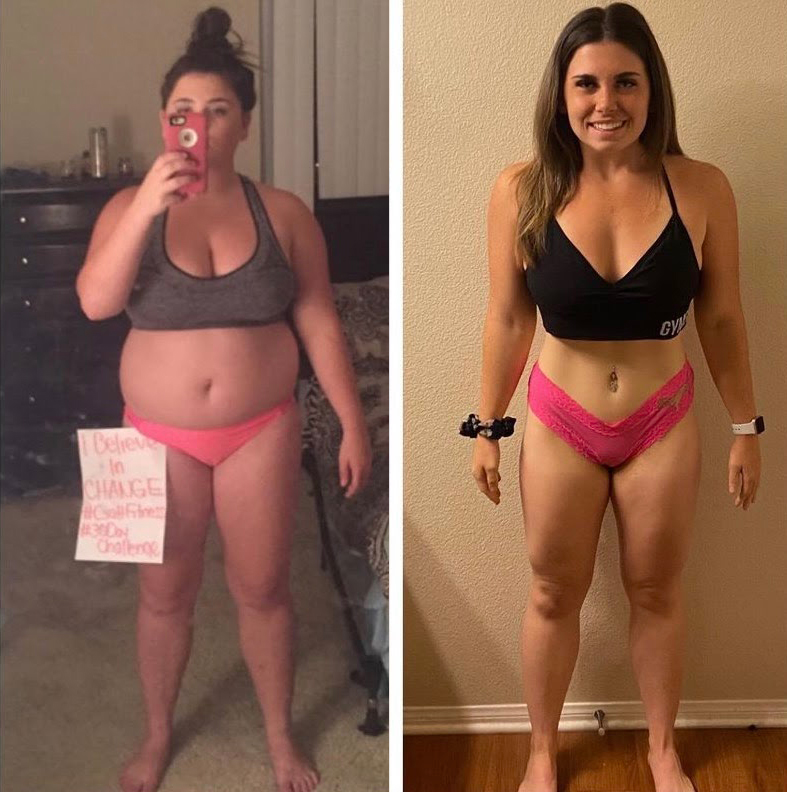 Get ready to reach your goals and regain your health!