Kelsie
"Let me tell you, working with Kara has been AWESOME!! I can't fathom these two pictures of myself and how much has truly changed mentally and physically about me! I honestly feel like a brand new person! Before starting with Kara, I lost all motivation to eat healthy and take care of myself and my mental health. I gained so much weight, was drinking so much daily, and not happy overall. I truly didn't feel like myself anymore. Now I feel like myself again, and even BETTER than before! I have lost weight and inches, I am getting stronger lifting in the gym, my clothes are fitting me again and getting looser!! AND I am eating so much, I love it. I am more confident in the gym, less bloated, I can control my cravings and I get excited to weigh in everyday and check in every week to see my progress. I am most proud of my confidence I have gained back about myself overall. I have decreased my anxiety and daily migraine medicine in HALF! I am so happy I decided to join her team, it's been the best decision yet and I can't wait to see my progress in months to come."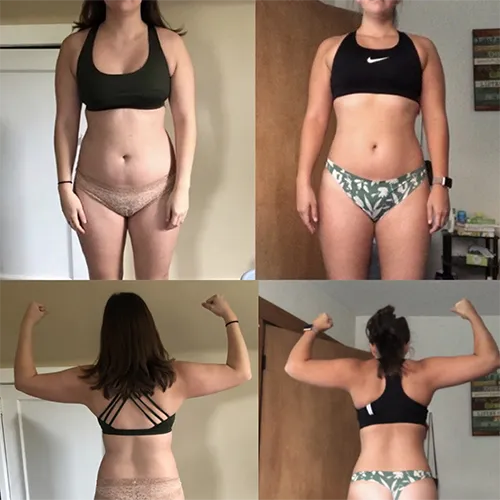 Jeanette
"I had always been very active when I was young, but when college came, I would inconsistently go to the gym and eat horribly. When quarantine hit, things got a lot worse and I started to see myself fall apart. Now, Kara has literally changed my lifestyle for the better. My life and stress has revolved around food and it feels so great to finally disassociate. I absolutely adore her and how helpful she is. This is definitely something you need to stick with and you will see results. I love you, Kara!"
Liz
"Life changing can't even begin to describe how wonderful it has been to work with Kara. I have struggled for years with my weight, mostly because I have never been the person who has been able to commit to fitness long enough to see results. With a coach like Kara backing me every step of the way and holding me accountable, I've made more progress than I ever thought was possible."
Kylie
"Kara has educated me TONS on proper macros and working out, not these "fad diets" you see on social media. It took a lot of adjusting to my macros and incorporating working out, but so far I have done more and learned more than I have ever before. I have overall improved mentally and physically. I am lifting more in the gym and doing workouts I never imagined, eating way more than I thought I could, and I'm overall feeling more confident in clothes."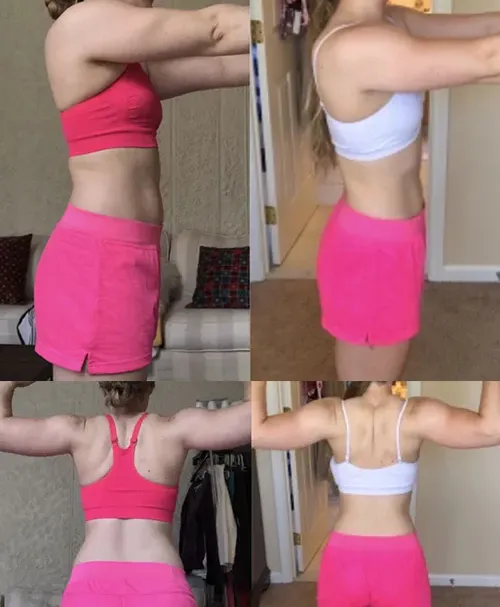 Get ready to reach your goals and regain your health!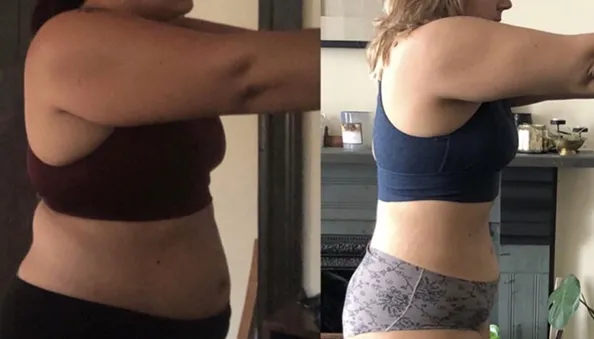 Rebecca
"My attitude is shifting on how I view my body. I used to only want to be thinner and spent a lot of time jumping from diet to diet trying to achieve that. Now, with Kara's support and guidance, I am starting to see my body as something I want to make stronger. I feel myself being more grateful for what my body can do and excited about how much more it will be able to do through this program and beyond. I feel motivated to really work on having a better relationship with food and the scale because I'm shifting from what I think I should look like to what I want my body to be able to do. This program is giving me the tools to be a better advocate for myself and my body and is helping undo almost 33 years of harmful thinking. I actually have muscles in my arms and legs that I can see! Taking pictures week to week is showing me differences in my body that I never thought to look for. I've lost pounds and inches and am fitting into clothes I had to put in the back of my closet because they were too tight. And I'm fitting them better now than I did before at this same weight! My physique is changing in ways I didn't know it could. I'm getting so much stronger and have so much more endurance. I'm finding that I'm way more comfortable around food and way less worried about having an event or day off from my program – because I know that I'll go right back into my routine and have the support I need! Kara is so incredibly positive and puts so much care into her clients. She takes the time to create community and build trust. I love that I'm able to reach out to her when I need to, or when I'm freaking out and she makes room to address my concerns. I feel connected and informed and she gives space to ask questions, make mistakes, and learn. I love the weekly check-ins and feel like they give me a time to really reflect on my week. I also love how this program is SO MUCH MORE than the scale! I love sharing strength increases and positive experiences with food as progress. For me this program is not just about the physical results – it's about building something sustainable and unlearning misinformation and harmful ideas about food and my body – it's about learning the tools to make real change! I'm so excited for the months to come. Signing up for this program was the best gift I've given myself in a while and Kara is a wonderful coach who has already taught me so much!"
Taylor
"Before working with Kara, I struggled with my body and relationship with food for over 12 years. Kara taught me how to feel confident around food and showed me the power of my own mindset. I love that her program takes a realistic and educational approach to eating. I don't have to restrict food or do hours of cardio. I feel so much stronger after every lifting session. And on top of that, I look forward to every lifting session. The simplicity of the workouts is so refreshing, but it's still extremely challenging and pushes me past my limiting beliefs about my own strength. Everything about the program is so easy to fit into my day and I would never turn to any other program ever again. This is all I need. I've tried "keto", Beach Body, intermittent fasting, etc. and got crappy results. It didn't teach me anything and wasn't realistic to daily life. Now, I'm eating more than I ever have AND making more progress than I ever have before. I couldn't be happier!"
Tracy
"My change in attitude towards food, eating, and working out have honestly surprised me. I was brought up thinking that if you wanted to lose weight, you needed to do TONS of cardio, eat low fat, low carbs, and very little food. Well, Kara took away my high cardio lifestyle on day one AND increased my food intake! I stuck with it and now, I'm hungry AND getting down to how I want to look! In just 3 months, Kara has flipped my mindset and I am proud of the mental (and physical!) changes I'm making. I have seen absolutely crazy results. The BEST part is that this isn't a fad diet. THIS is a full-on REAL change. I'm learning what my nutritional needs are based on my athletic lifestyle. I've exceeded my own expectations so far, even though my journey is far from over. Kara's support is unprecedented. When she says "no judgment ", she truly means that. She doesn't just sit back and cheer you on with false praise, either. She tells you what you're doing right and what you need to fix. I'm not a fan of false praise so I love her coaching style!!! The better part is she doesn't just want to talk to you about your diet & fitness. Kara is honestly interested in ALL aspects of your life. If your world implodes, and let's face it: everyone's does at some time, Kara is right there offering a sympathetic ear, advice, and a boost when you're ready. Making the decision to work with Kara was the BEST decision I've made in a long time. I came with a lot of misconceptions,  injuries, and baggage. Kara sifted through it all without judgement and helped me realize that I was impeding my own progress. I wish I would have found Kara sooner, but I'm ECSTATIC I have her now! Do yourself a favor. Stop the fad diets. Stop trying things you read on social media. Why not take all that money you're wasting and hire Kara to TEACH YOU what you should be doing? You'll reach your goals, be able to maintain them, AND have someone in your corner who is there for you 24/7."
Asha
"Kara is amazing at what she does. She is such an amazing coach and has improved my health and fitness for the better!"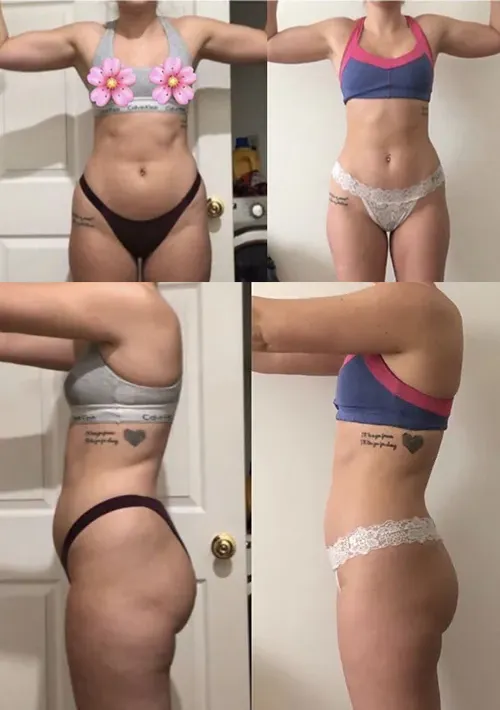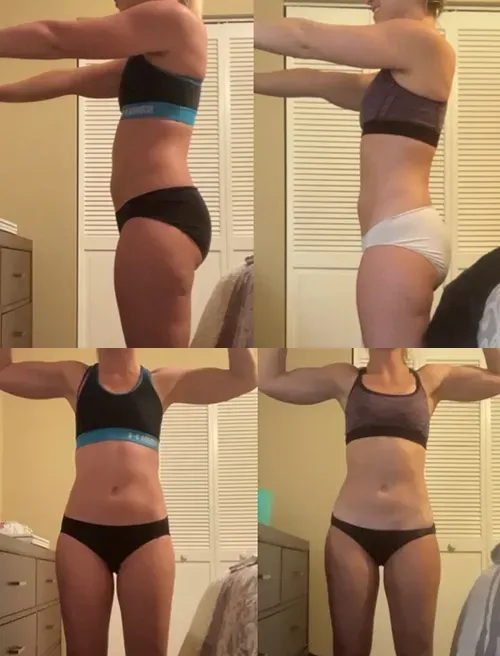 Taylor
"Kara has been helping me over the past 2 years with so many life changes. Back in January, I started trying on wedding gowns. I knew I loved this gown but I also knew I wanted to look even better in it. I started with maintenance but also have had many events, celebrations, and just life to attend to that would at times get me off track, but Kara always helped me be realistic with my goals. I started a cut, STILL had some of those off-track days, but was able to drop 10 pounds (which is a lot for me because I'm only 4'10"!) and I felt absolutely amazing in my wedding gown. I have never felt so beautiful as I did in this right picture. Kara worked around my crazy life to help make adjustments yet still was able to help me reach my goals. Kara, you are magical!"
Get ready to reach your goals and regain your health!
Maggie
"Working with Kara has seriously been a life-changing experience. I cannot imagine my life not working with Kara. Physically, my body has changed a lot. I've lost almost 15 pounds. But mentally & emotionally – I've changed even more. I have been loving this body that I'm in. And I'm so grateful that it's gotten me through a pandemic and I celebrate by working out and fueling myself properly. Just for reference – I work 3 jobs, have a dog, volunteer as a president of a nonprofit, and still love spending a ton of time with my boyfriend, friends, & family. If you want it – you'll do it. No excuses. I am a better professional, girlfriend, sister, daughter, & friend because of working with Kara. I love being a part of this community."
Rachel
"I worked with Kara for 8 months! I was in a huge rut in my fitness journey before joining FFLA. I had been working out consistently & eating clean for about 3 1/2 years & lost a nice chunk of weight. I did Crossfit & some lifting with not much focus on progressive overload, just sort of random workouts day to day with A LOT of cardio. Initially, I got in great shape & felt so proud of myself. However, after some time, I started to gain some weight even though I didn't do anything differently. I tried cutting my calories even more & was still gaining weight! I began to notice I couldn't lift as heavy or go as long in my workouts because I was just too burnt out, I didn't know what else to do. I wasn't sleeping well, always felt like I needed a midday nap to even function, & felt bloated & unwell practically every day. I was so stressed out from my personal life already & then seeing myself not perform as well at the gym made me even more stressed & I felt like I was failing. I was miserable for months, & I couldn't physically eat less & I knew that, so I decided to finally message Kara after watching her for a very long time & resonating so much with what she said. I was like, "Well if these are the results people are getting working with her and eating MORE—sign me up!" I feel so good now. I actually have energy throughout the day, I'm sleeping better, even my skin has cleared up! I could cry at the difference I feel with my energy & stress levels, it's like night & day within these last few months. There isn't much difference on the scale between the pictures, but that doesn't matter to me the way it used to after seeing what the body can do when you learn to properly fuel it. I'm so beyond happy with my decision!"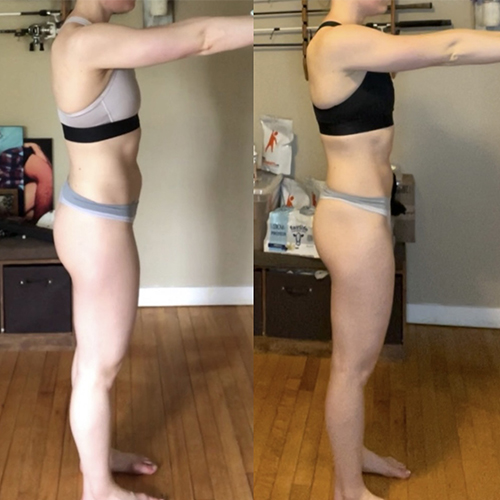 Carolyn
"I have been working with Kara for the past 6 months and have seen amazing results! I came to her wanting to work on hormone health post-birth control and have seen improvements in so many areas, not just in relation to my hormones (labs improved significantly), but also in body composition. Body composition was not our primary focus, but with proper nutrition and fitness I have gotten leaner as well. She is such a smart RD and trainer, and I am so thankful to have had her guidance throughout this process. Kara always took my individual circumstances into account and made a plan for me that was individualized and realistic. If you're looking to make shifts in your health/lifestyle and want to get results that truly last, I would highly recommend her!"
Megan
"I have learned so much from Kara. I started out with her in June 2020 due to weight gain from steroids and undiagnosed Hashimotos. We did a raise in calories to help me fuel my body with the right macros. I had no idea that I was not giving my body even close to what it needed. We ended up removing soy, dairy, and gluten products from my diet to see if inflammation and thyroid levels would decrease. My TSH and antibodies decreased! I have also lost about 10 lbs. I am having a bowel movement almost every day now, compared to maybe 2 days a week back when we first started. I couldn't have done any of it without Kara! I'm am super proud that I have lost half of the weight I gained and I am mentally the happiest I have ever been with myself and life. I have enjoyed and learned so many things with this program. It has given me such great success and changed my physical and mental mindset to help me grow! Thanks to Kara, I now feel confident that I can make smart choices for my health and still have fun and live!"
Casey
"My biggest struggle I faced before working with Coach Court and FFLA was definitely figuring out how to incorporate nutrition goals into my lifestyle. I have always been someone who uses fitness not only as a hobby, but as a stress-reliever. I did a couple of fad diets here and there and even tried Beachbody for some time, but I felt like the steps I was following weren't sustainable and to be honest, I wasn't passionate about them to stay consistent or strict to them. Overall, my biggest improvement after working with FFLA is for sure my body image. I have completely morphed into this physically fit female that I have strived to be for quite some time! I look at my before and after pictures and am rewarded with instant gratification from seeing where I started and where I am now. My overall biggest win is definitely learning a sustainable form of nutrition that not only fits my lifestyle, but still gives me the flexibility of trying different foods, eating sweets and treats, and finally understanding what types of food my body needs in order to help me achieve my fitness goals. To be honest, I look back to where I was a year ago (both physically and mentally) and do not recognize that person anymore. That person was tired and exhausted after two long years of residency training, being 20+ lbs overweight, and being unsure of where or how to start a fitness journey. Today… I feel strong… I feel confident… I feel understood… I even feel sexy! I'm so excited to continue with these feelings over how I used to feel. The thing I enjoy the most about being part of FFLA is working with my coach and having access to an entire army of FFLA clients who are so supportive of one another. We have so many resources available to us (travel tips, managing stress and sleep, total protein guide… just to name a few!), access to the monthly team zoom trainings, and a group chat where clients ask questions, share tips, or even celebrate other people's accomplishments! It feels good to feel so supported on my fitness journey. To anyone who is considering joining FFLA, I would say do it, 100%. I understand that up front, the money can look overwhelming and intimidating. You are asking complete strangers to help you start out on a fitness journey that you're unsure of. I am speaking to you as someone who has re-signed with my coach 2-3 times. Am I re-signing because it's not working or I am not hitting goals so I'm giving myself more time to hit them? No, absolutely not. Each time I re-sign, I am investing in me. I am investing in my fitness journey, I am learning more about my nutrition and what I can do to stay consistent, I am growing stronger with my fitness goals, I am pushing myself to be the person I strive to be. And I am doing all of that with the help of my coach who has been there through every step I take on this journey. This is an investment in you… And one you won't regret."
Zadia
"I started with Kara in December of 2021, mainly because I wanted to increase muscle mass, because I had always been thin but did not consider myself fit. So I was looking for someone who helped me with that. I chose Kara because it gave me confidence the fact that she was a trainer but also an RD, as I am, I knew I couldn't be in better hands. Also, I had followed her for a while, and the transformations I had seen on her page and in the FB group always impressed me so much, and knowing that she treats the body as a whole, not just as it looks on the outside, I was sure I could get some additional benefits on the way, such as gut and hormonal health. Before starting with Kara, I had always lived with gut issues, like intestinal discomfort, bloating, cramps, gases, always fearing that my gut would embarrass me when out of home… I had been treated by Gastroenterologists with no results. I came to think that simply I just needed to learn to live with that. After Kara's assessment (a very complete one), she started me on a gut protocol in January. And, honestly, as soon as in one week I started to see results in terms of the symptoms, and in the next few weeks I started to see my belly shrinking. FOR ME THIS IS A HUGE WIN!! I'm sooo grateful!!! About my physique, I like so much the way my body is looking now, feeling more defined, losing fat, and increasing muscle mass. Also, she had guided me in creating new habits that helped me with my daily routine, and with time and stress management. Kara has been so accessible, comprehensive, and her recommendations have been so correct and wise. I always get her help but without the judgement. She is the best!! And an inspiration for me as a professional. One of the best decisions I have made and wishing I had started with this earlier!!"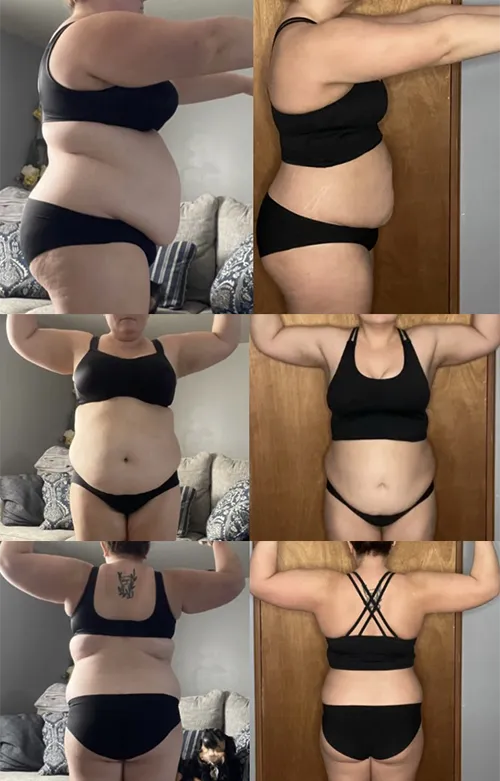 Sara
"I've been working with Kara and FFLA for almost a year and a half now, and when I tell you it has completely changed my eating habits, my perspective, energy levels and sense of accomplishment, you might think that's an exaggeration. I was gifted the opportunity to work with Kara, and as a person who had already been dieting half my life, I didn't have high hopes. This wasn't something I would have ever imagined would be as valuable to me as it has been. To preface this, before I started with Kara I had already spent 1/2 my life in a dieting then binging cycle. I have been a long time sufferer of PCOS and the "miracle combo" of metformin and birth control pills were not making me any less a victim of the symptoms. The year before working with Kara I had lost about 20lbs in a very unsustainable (and quite frankly unhealthy way) after reaching my highest weight of just above 250lbs. That 20lbs was constant yo-yo because I would go from eating 1300ish calories a day for 4-5 days consistently and then completely lose my composure on 1/2 a box of cosmic brownies or whatever else was in my war-path. Some big things started to happen once I started with Kara. I learned I was having these intense binges because I was UNDER fueling myself. Nobody could prepare me for the panic I felt when she set my calories 300-500 calories higher than I had been consuming daily. I also was given the option to take an "untracked" meal each week to provide flexibility for outings, special events, or quite frankly to satisfy a craving before it became an issue. As an adult woman in a larger body this was dramatically different from the severe calorie deficits I saw people succeeding with on TikTok. But sure enough, 2 weeks in, I noticed I had more energy, my body was responding well to it, and the plan she had set for me wasn't as difficult as I made it seem in my head. I was eating so much more protein, my body was getting stronger through the workouts and in turn, my sleep was better and more restful. I can confidently say I trust Kara and her judgement and her protocols. I pushed back a lot in the beginning and to be fully transparent I'm not the easiest client to work with. Change is hard, but Kara was understanding and empathetic and was willing to explain things to me when I didn't understand without judgement. I have weeks where I slip. I have the extra slice of pizza, I miss a workout, or I don't hit my steps, but Kara reminds me I don't need to overcompensate and starve myself the next day or workout 2x the amount I normally do to "make up" for the day before. She reminds me of how consistent I am and that's something I hold onto when I'm having a bad body image week. I got to marry the man of my dreams in August in the smallest, strongest , healthiest body I have had in well over 5 years. I got to feel confident as I walked down the aisle, knowing I showed up as the best version of myself so I can be the best wife and friend to my husband. I am now 38 lbs and 11 inches down. These progress photos are my records of over a year of pretty consistent efforts. If you're considering working with Kara or Courtney, I fully encourage you to make the leap. Your life will change in ways you didn't expect."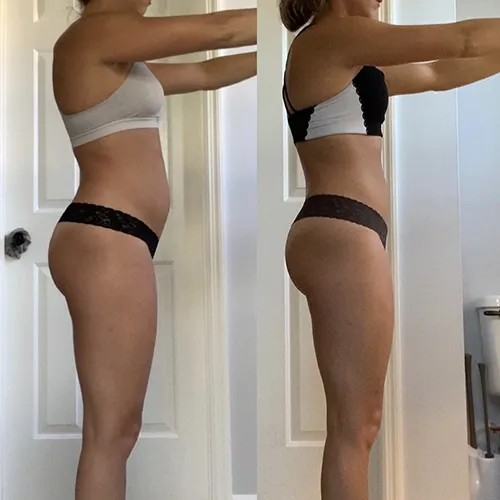 Alex
"When I came to Coach Court, I was so nervous to start! I had recently worked with another coach that was successful in helping me get closer to my goals, but in a way that was stressful, not sustainable, and made me scared to jump in with someone else. If I didn't hit numbers/protocols, I felt like I was letting my coach down, which made my stress go through the roof and made me want to give up. Courtney recognized this and put together a plan for me that not only included a training plan and macro/nutrition guidance, but also guidance in how to help my mental stress and anxiety. She asked that I take 5 minutes every night to write down one thing that I'm grateful/thankful for, one thing that is going well and one thing I love about myself.
I've lost a few pounds working with Courtney, which I am so excited about! But what I'm most excited about is my mental shift. Often, one of my check-in goals will be mindset/self-care based. We have prioritized just 5 minutes of mediation, stretching, reading before bed over watching Netflix, getting in 7-9 hours of sleep, journaling and those small changes that have made a BIG difference. I have started to feel less stress on a daily basis, I have more patience, my resting heart rate has gone down and you know that happy feeling you get when it's Friday… more days feel like Friday!
There have been weekends where I have been out of town while working together and during those weekends, we just track protein. I try not to go crazy and loosely track, but I'm not stressed out about my numbers, I still keep hitting lows and have continued to make progress on my fitness goals. This has been HUGE for me that I can continue my life without getting bogged down about where I want to be health/fitness wise. Courtney is the first person to remind me to give myself some grace and it's okay that you occasionally don't get that workout in or don't hit those numbers perfectly. We control the controllables and it's crazy to me to think where I would be if I had not said yes to training with FFLA. There will always be reasons why it's not a great time to get started. I'm so glad I did and have made those small changes that have made such big differences. I am so excited about my progress and how far my mental health has come!"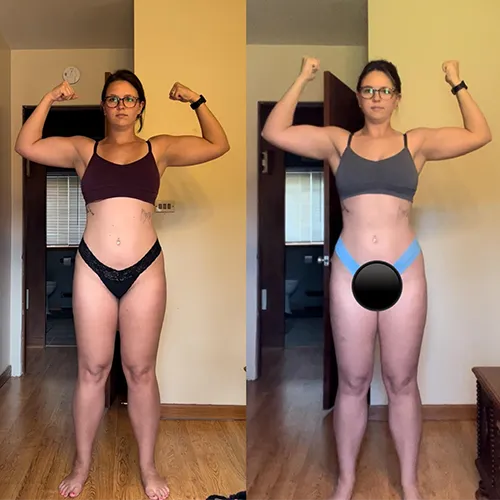 Mackenzie
"So, as you're looking at my transformation pictures, you may be thinking, 'There aren't any super big, noticeable differences.' Before I started working with Courtney, I would've said you're right. But, it wasn't until I began working with Courtney that I started making major (and I mean MAJOR) strides in my health & fitness journey. What these progress pictures don't tell you, and what the scale will NEVER tell you, is that I am so much more confident now than I was a few months ago. My clothes are fitting me so much better now than they ever have before. & though it may not look like it, for the first time in my life, I need to start sizing DOWN in bras and tops!! We've gotten my gut health to a place it hasn't been in years. There is still so much more work to do, but we're on the right track! These progress pictures don't show all of the PR's and endurance wins that I've had in the past 2 months. They don't show you that I've gotten my step count up tremendously in comparison to what is was before or that I'm eating fruits & vegetables for the first time in my life. Before I started working with Courtney, I thought the only way to measure progress was with pictures and scale victories. I WAS SO WRONG!! Courtney helps me find the good in any week. I don't think I've ever submitted a check-in without including a win from that week. My nutrition might've been off, my steps might've been low, my workouts may not have been the greatest, but regardless, I've had a win every single week since starting with Courtney. I am progressing every single week. Courtney understands that life happens, but she also pushes me to do my best and be my best. She doesn't shame me if I had a bad week. Instead, we find the root cause and she fires back a million suggestions and an incredible pep talk to get the next week off on the right foot. The main reason I joined coaching was because I lacked guidance & Courtney gives me just that. I look forward to check-ins even on weeks that I may have slacked because I know that I can count on her to get me back on track. Coaching was a HUGE decision for me. It took so much courage to invest in myself, but I can honestly say that it was and continues to be the best investment I've ever made. ! am so excited to continue to progress!"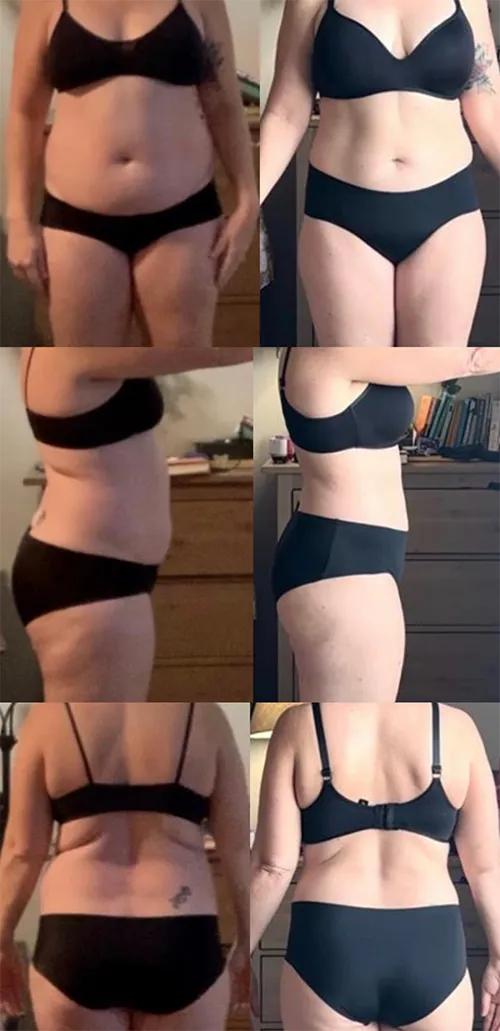 Katie
"Before starting FFLA, I was struggling with really frustrating cycles, difficulty sleeping, resistance to weight loss, cravings, anxiety around food, and a lot of unhappiness with my body and its strength. The most frustrating cycle was restrictive eating during the week followed by binging on food and drinking more alcohol than I wanted to every weekend. It felt like I was two different people, the structured "successful" Katie during the week and then "weekend Katie." It seemed like I would lose all control and go crazy on the weekends. I was so unhappy every Monday and would move into a compensatory pattern to try to "undo" the weekend. One of my biggest improvements and what I am most proud of, is my choice to no longer drink alcohol. Courtney helped me so much with making this decision that felt very difficult at the time. It feels so easy now because I've realized how much alcohol was taking from me and I will never go back! I feel so much better without it and am enjoying everything else in my life a lot more. Another big win is how much my sleep has improved. I no longer have to take sleeping medications. Although weight loss was not at the top of my goals because I am passionate about body positivity, I have lost close to 30lbs and that feels really good for my overall health. The most amazing part is that I am consistently eating more than I was at the beginning and actually doing LESS cardio. I feel healthier and stronger. I have a lot less anxiety and I actually look forward to resting and recovering on the weekend rather than dreading the part of the old cycle where the cravings and "F" it attitude would take over. I feel so much more confident at the gym and in my body. I love my routines. I can count on feeling my best because I have learned how to take care of myself. I thought I knew everything I needed to know about eating, nutrition, and exercise but I have been so pleasantly surprised by how much I have learned. I absolutely love working with my coach Courtney. She has become so much more than just a health coach. This past year brought a lot of challenges with it and she was by my side every step of the way. No matter how I felt she always had a way of lifting my spirits and encouraging me. I also LOVE the fact that I am reaching my health goals while also eating all the foods l love and being able to adjust what I am eating when I want to. I would absolutely encourage anyone to try FFLA. The investment is 100% worth it! It really is a lifestyle change. Reverse dieting and FFLA's approach is the future, everyone else just needs to catch up, haha! No more fad diets, rigid unrealistic plans, pills/medications with no exit plan! If you want lasting changes, incredible individualized support and results, FFLA will get you there!"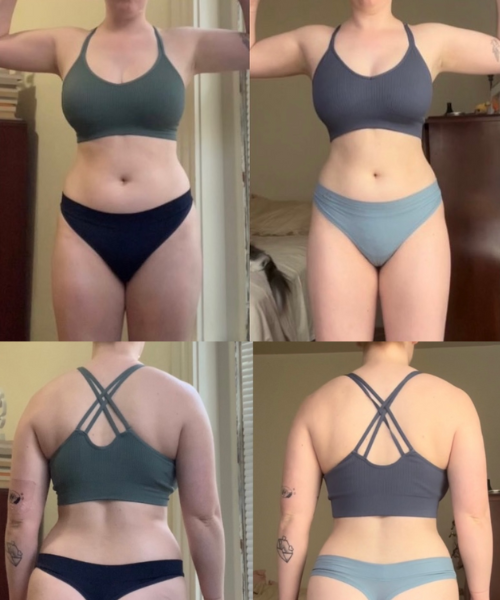 Alexandra
"When I first came to Kara, most days I was eating somewhere around 1,000-1,200 calories, and other days I was eating above 3,000 calories.. all of which was unintentional and in hindsight, due to a lack of self awareness. I was drinking maybe 25 oz of water per day, drinking caffeine as my breakfast, and partaking in intense HIIT workouts with no strength training at least 4 times per week. It was easy to let this be my reality, as I had no plan or knowledge of what to do that would be beneficial, and not just another quick fix. Raise your hand if you also felt/feel paralyzed by the information overload on the internet about health and fitness
Most days I was bloated, had irregular BMs, suffered from extreme anxiety that felt like I couldn't breathe or calm down, and had relatively low energy during and after workouts. I knew that it was time to put my trust in a coach if I wanted to make sustainable change, safely and accurately.
At the start of our health phase, Kara and I worked on gradually increasing calories by tracking macronutrients. At first, I was amazed at how much food I was eating, and also amazed at how little I was eating before. We also established a step goal, fiber goal, water intake goal, added strength training, and ditched cardio and caffeine in an effort to regulate my nervous system.
Gradually, my symptoms began to feel so much better. I noticed that the debilitating anxiety that I felt went away, I had more energy during workouts, and I felt SO much better overall. The control that I began to develop over my own habits has been extremely empowering. I noticed that through creating healthy habits, I have proven to myself that I can do anything. I feel that I have more agency over my own life and decisions than I ever have before. These are some of the indirect results that I've benefited from as I take control of my health and trust the process!
Right now, Kara and I are in the middle of a GI protocol, where we have worked on gut health and balancing the bacteria in my gut. We have more plans to address other health concerns, and to eventually enter a fat loss phase. One more key that I would like to note is the importance of trusting your coach, and pushing yourself to do things you've never done before to get results you likely have never had before. I know that being inconsistent has NEVER helped me achieve my goals. I also know that eating 1,200 calories has NEVER made me feel great. There are plenty of times where I challenged myself to implement the changes that Kara and I discuss, and many of those times were not easy. The reality is that anything worth it will not change overnight, or even in a week, but after making the decision to create sustainable change, I have seen so many positives. Kara is truly everything you need in a functional health practitioner!"
Ashley
"Raise your hand if you've ever been personally victimized by doctors who imply either directly or indirectly that you're making up all your symptoms and what you're experiencing is totally normal OR they've misdiagnosed you with the easiest thing without doing any real testing even though the diagnosis doesn't really make sense OR prematurely thrown medications at your symptoms without trying to find the root cause of the problem when you've repeatedly stated that you don't want to start with medications and you want to figure out what's actually causing the symptoms instead. I know this is many of you!
After almost two decades of searching for answers from handfuls of doctors and specialists – including some at the top hospitals in the country, I started my journey with Kara at the end of my rope. I was a dumpster fire full of bone deep exhaustion, muscle aches, joint pain, chronic abdominal pain etc… this was compounded by the shame and embarrassment that as a registered dietitian myself I couldn't seem to lose weight without resorting to disordered eating. It's been a long journey so far full of some major changes in my life, but I never could have accomplished them without Kara building my confidence and walking with me through all of this over the last year and a half.
I can't say enough about how great working with Kara has been. I've been trying to lose weight and be in a healthier body for decades. Kara's coaching is the only thing that's worked and continues to work, She's so comprehensive and truly looks at every aspect to help you make changes that will last. She is worth every penny and more!"
Maddy
"Kara has helped so much with my consistency and making sure my metabolism stays happy so I can lose fat without feeling too restricted. It's been so easy to make this program work with my life, and I love that I can still go out for my favorite foods while making progress towards my goals. Also, while I came to Kara mostly for help with my nutrition, she's also helped so much with my training, and my squats look and feel better than they have in the YEARS I've been working on them!"